Hi Flood Family, Rachel Koch here!
I am about 4 months into working at Flood and if I had to choose one word to describe these past 4 months as a first time Youth Director it would be "Humbled." You may be thinking, "YIKES, Rachel, "humbled…" are you okay?" And the answer is YES, I'm not only okay, but I am very grateful for these humbling months. There are three humbling moments that stand out to me that I would love to reflect on with you! Let me explain.
Moment 1: 7 STUDENTS GOT BAPTIZED!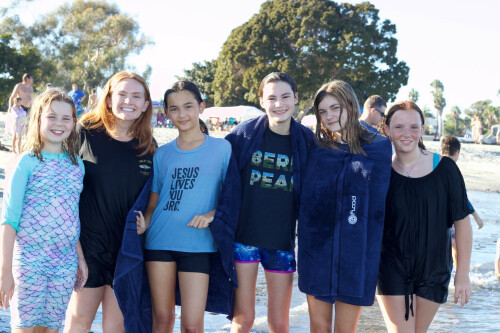 Just two Sundays ago 7 students in the Flood family got baptized at Mission Bay. This was my first experience of baptisms at Flood. Looking at the baptism sign ups and seeing that everyone was under the age of 12, I was in awe of the faith of young people in our midst. Each of these students took a great step courage to publicly declare their faith in Jesus before their friends and family. God's movement in the lives of the younger generation continues to humbly remind me that I have MUCH to learn from these emerging leaders.
Moment 2: GOD TRANSFORMS LIVES BEFORE I'M DONE WITH MY COFFEE


I got to meet with several of the students and hear about their coming to faith and why they wanted to get baptized. Over and over again students reflected on how it was at SUMMER CAMP that they came to know God personally.
I love this so much because, to be honest, some of my memories from this summer's camp were my personal shortcomings (before caffeinating!) in the morning or my awkwardness in not knowing what questions to ask middle schoolers in 2022. Regardless of how I felt as a newbie in my role, getting to hear God's movement in their lives was priceless. I sensed God "winking at me" reminding me that it is HIS SPIRIT that changes lives, not my perfect performance. Praise God that He is God and I am not!
Moment 3: 5-TO-1 IS CHANGING LIVES AT FLOOD!


Kara Powell, Executive Director of the Fuller Youth Institute, shares that faith retention in young people significantly increases when there are five or more adults investing in one student spiritually and personally. It is one thing to know this principle, and it is another to see it lived out. At the baptisms, each student shared a 1-2 minute testimony and then were prayed over by adults. It was incredible to see the parents, family members, friends, and Floodsters gather around these young people in prayer. For each one of these 7 students getting baptized there were at least 5 adults there to support and cheer them on.


I am so grateful to be in a church community that uplifts the younger generation. I am humbled as a pastor to know that there is a whole community of adults that have poured their lives into raising up the younger generation to be the light in this world. I have much to learn from the generations above and behind me.